Thrive is Hiring!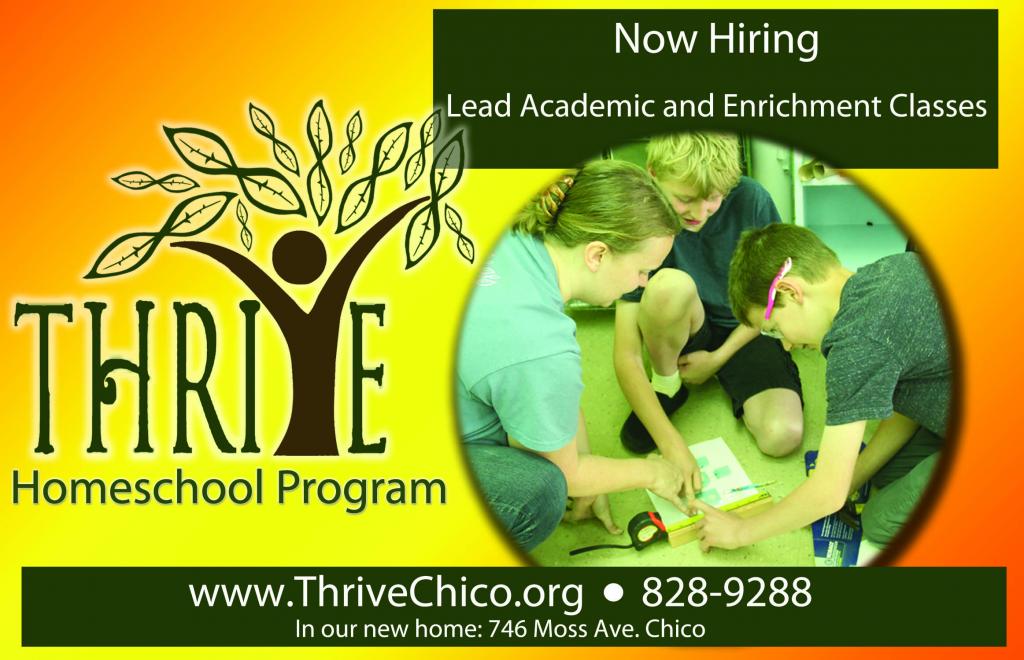 If you enjoy spending time with children and have a skill, talent or special interest you are excited to share than Thrive may be a fit for you. Be a part of our amazing team.
We are looking for people interested in leading programs in various philosophies including:
Self Directed/Open structured
Nature knowledge (plants and animals) and eco-friendly ways
STEM (Science, Technology, Engineering and Math)
Waldorf Inspired
Montessori Inspired
Kindergarten basics
and many different subjects such as:
Drama
Skateboarding/biking
Art
Hands on Science
Music
Knitting
Sports
Computer Coding/Programming
3D printing
Engineering
Robotics
Cooking/Baking
Yoga
Spanish
other topics that may interest our students.
Email your resume and cover letter letting us know your specialty and/or special interests to ThriveChico@live.com before July 2nd. We will be interviewing July 5th, 6th, 18th and 19th and positions will begin early August.
Part Time- $10.50 to $18 per hour (dependent on experience)
Teen Internship
Teen Internship, age 13-18: Do you enjoy working with younger homeschoolers? Join us and gain valuable career skills and work experience as a helper in our homeschool program. During class time students will work on interview and resume building skills. Time will also be spent to learn child development and class presentation techniques.
Many charters count this toward needed volunteer hours. Ask your charter teacher if you would like to count this yourself. During main blocks (11am to 3pm) students will be assigned to work under an adult class leader to assist with classroom management and project leading.
Important Notes: Teen Internship students must attend Tuesdays 9:30am to 3pm and Thursdays 11am to 3pm. Teen Interns are expected to uphold a professional level of decorum that some teens are not ready for. Please discuss and assess this before registering. Some interns may be asked to discontinue if they are not appropriate role models for the younger students. Fee schedule is at the Bronze Plus Level. Teen Interns must bring their own packed lunches. Teens may check themselves in and out. Teens will not be allowed to leave during their scheduled hours unless arrangements have been made with their parents.
We accept POs from all local charters.
Adult Volunteers
We know that part of why you homeschool is so you can spend more time with your kids. An important piece of the Thrive program is giving students a small amount of time to be separate from their parents and learn in a group setting. Please consider the importance of giving your child freedom in a safe space before volunteering. Some of our volunteers choose to volunteer in classes separate from their child or to allow their child some time alone and some time with their parent as a helper. Volunteers can also help with supply and room preparation and set up.
Application process will start in August. Volunteers will be asked to go through a formal training, to ensure quality of care across our program. Volunteers are asked to commit to joining us at least once per week for the duration of the program with flexibility in scheduling.
Volunteers MUST get fingerprinted and this will be at your own expense.
Teach a class at Thrive.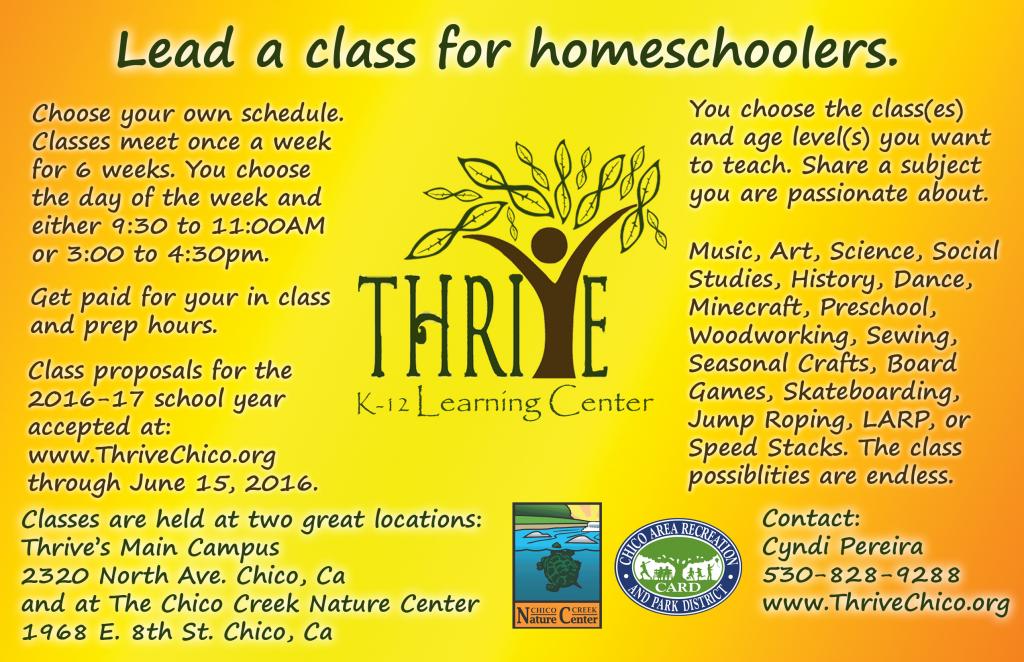 Complete this form if you are interested in leading a class for homeschoolers. If your class is chosen you will still need to go through an interview and back ground clearance.
This form may also be used by businesses seeking a contract payment for their class.
Flexible: You choose your dates, days, age levels, and subject matter